Want a Brownstone House? Here's What to Know
Want a Brownstone House? Here's What to Know: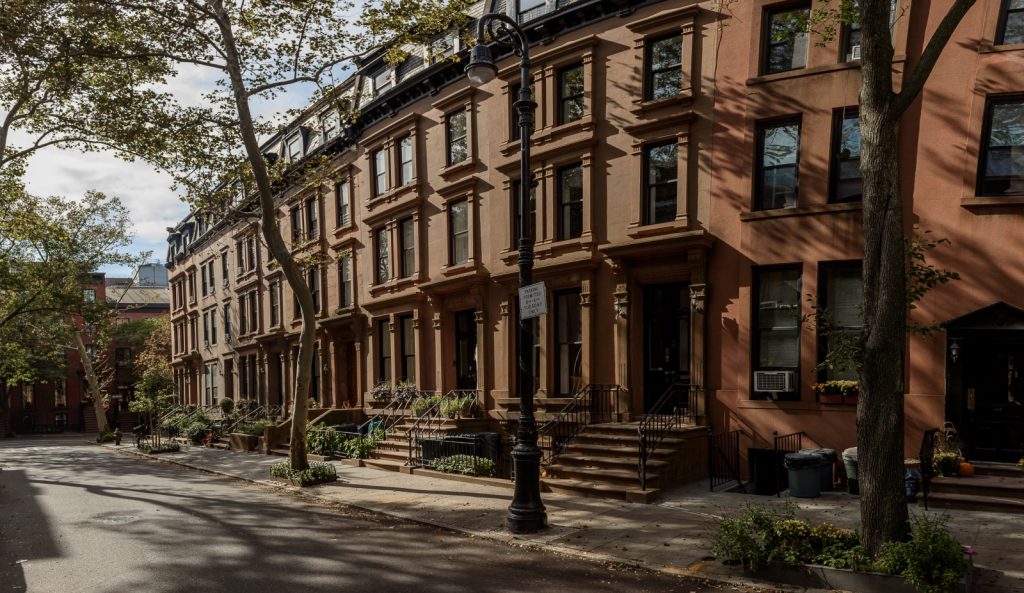 For many New Yorkers, owning a brownstone house on a shady block in Brooklyn is the dream. There'd be a nice, wide stoop for flower pots, a kitchen with a window and maybe even an island. There would be a spare room for the in-laws and a garden in the back with an umbrella and a wind chime. Ah, life in the city could be so sweet! That is until you've taken out a mortgage, spent every cent of your life savings, borrowed a bit from mom and dad and now realize that you have a multi-story mega headache on your hands. Without a doubt, buying a brownstone in NYC is a privilege and blessing, but it is not one for the faint of heart or fair-weather owner. It requires long-term commitment, care and patience.
If your heart is set on buying a brownstone in NYC and you are fortunate enough to have the resources to make that dream come true, be sure to read this article detailing what you need to know – and what you might not expect – about buying and owning a brownstone in NYC.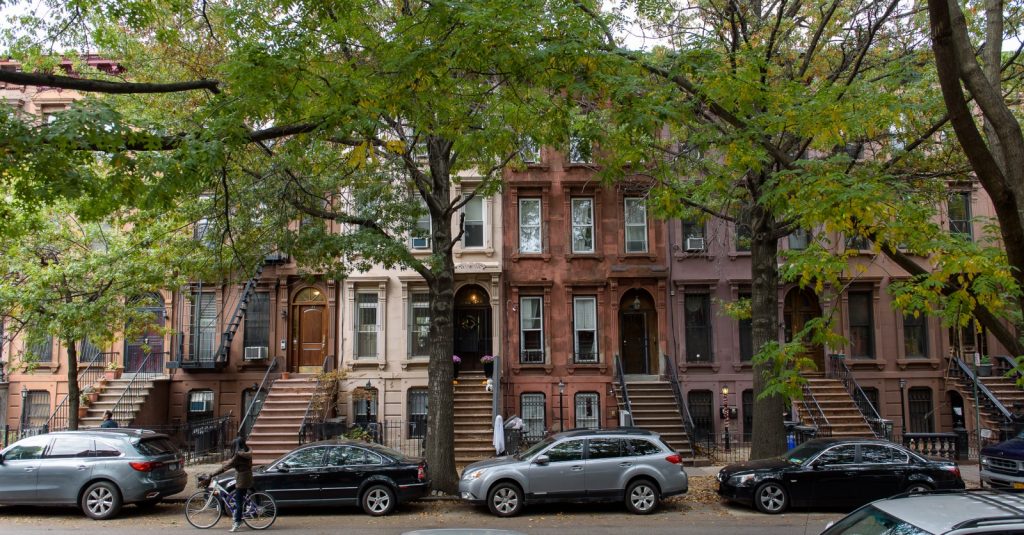 It's a Long-Term Investment
Buying a brownstone in NYC is a big move for anyone regardless of age, income or seniority. It is an even bigger move, however, if you are a first-time buyer. Sure, everyone in the city is doing the math trying to calculate the tipping point for renting versus buying, but buying a brownstone is more than just a financial investment. It's a large, long-term commitment that entails many budget and lifestyle decisions as well as long-tail gratification. This is especially so if your brownstone needs renovations.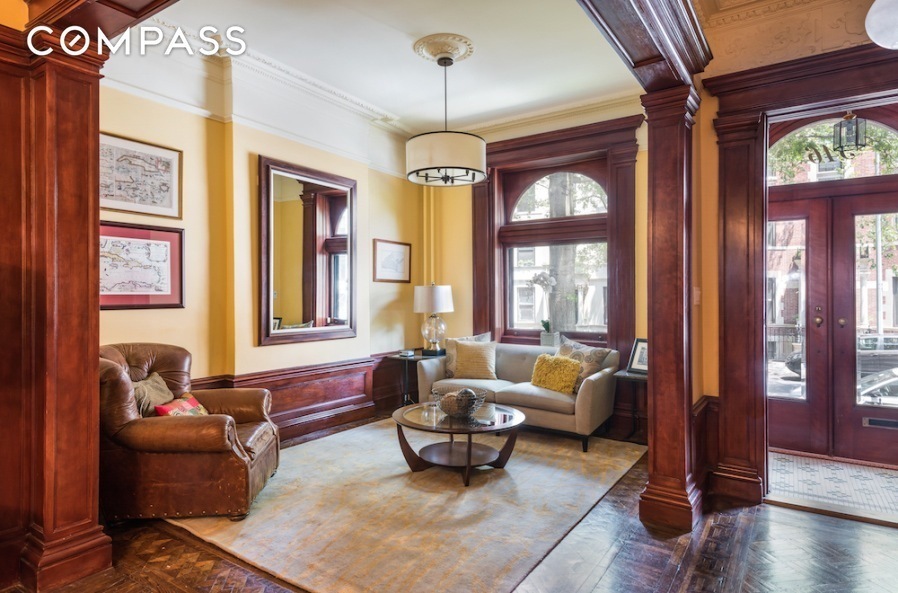 While many first-time buyers go for starter homes, a brownstone is the antithesis as they usually go for well over $2M, have generous square footage, require specific maintenance, and are located in expensive neighborhoods like Brooklyn Heights and Boerum Hill. These factors do not preclude a first-time buyer from buying a brownstone, but it's important to note that the financial investment and lifestyle brownstones entail is not suited for short-term occupancy. If you're not planning on staying put for 10-plus years, you may be better off buying a condo or co-op.
Things to consider before buying a brownstone:
Am I in NYC for the long-term?
Can I raise my kids here?
Do I like DIY projects or do I have the financial means for the upkeep?
Will work take me elsewhere?
Will the need to care for aging parents pull me away?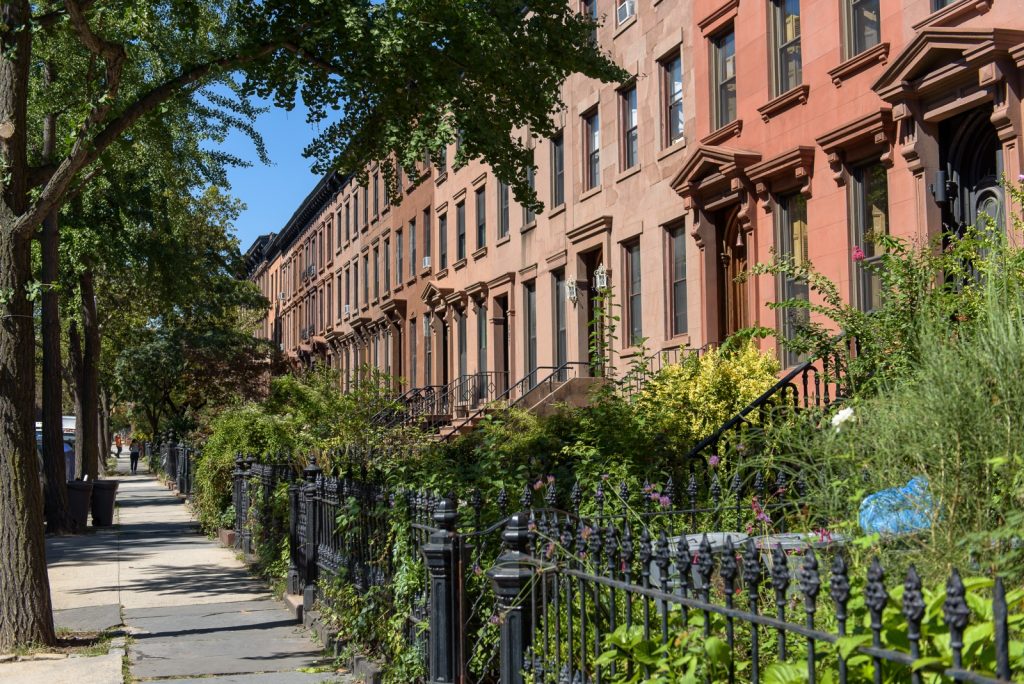 Financing & Taxes
With asking prices upwards of $2M, financing a brownstone is no small task. But, one boon for brownstone homeowners is that property taxes for brownstones are also usually lower than comparably priced real estate. In New York City, single-family homes, including brownstones and townhouses as well as apartments in buildings with less than three units, are assessed at 6 percent of their value. Properties in large multi-unit apartment buildings, by contrast, are assessed at 45 percent of their value. Another financial break for brownstone homeowners is that you don't have to pay monthly maintenance fees or common charges, which can add upwards of $20,000 to your annual expenses.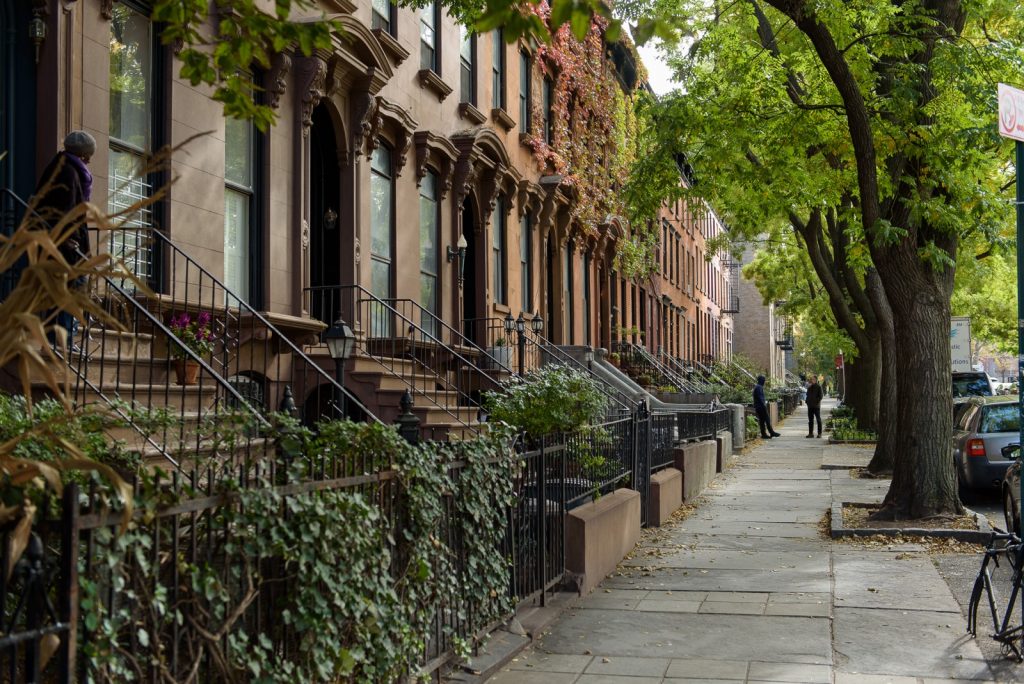 Privacy and Autonomy
In addition to freedom from co-op and maintenance fees comes freedom from persnickety co-op boards and obtrusive neighbors. As an owner of a brownstone, you get lots of privacy and autonomy. You will be your very own boss and as such you get to make the rules of the house. You don't have to heed anyone else's rules about pets, smoking, bike storage or quiet hours. This will be a welcome change for any NYC apartment dwellers who've felt hampered by their building's restrictions on pets, outdoor space usage, guest policies and the like.
The downside of being your own boss is that, well, you are your own boss. When the cable cuts out, when the roof leaks, and when you are locked out, you are on your own. There is no super to come to your rescue, no neighbor to buzz you in. You'll have to learn how to handle the little things like power issues, running toilets and pest problems on your own and have strategies for worst-case scenarios like power outages and frozen pipes. Some homeowners love being the master of their own domain; others prefer a little help from the super. Think about how dependent you will feel relying on an on-call handyman or helpful neighbor before buying brownstone.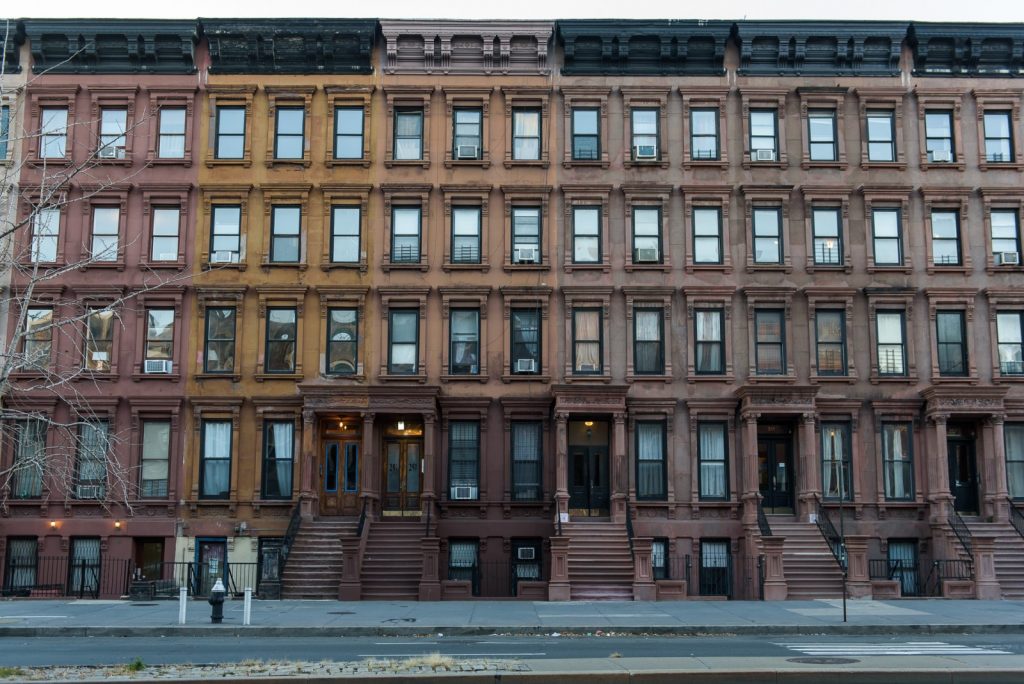 Roof
As an owner of a brownstone, the roof over your head is all yours, which means repairs and maintenance fall on your shoulders. Repairs and new roofs can be expensive and time-consuming, so before buying a brownstone be sure to get recent repairs and disclosures from the current owner about any existing problems. And your home inspector should be able to uncover any potential issues as well.
The two most common roof issues are leaks (usually water getting into the membrane and insulation of the roof) and the separation of roof parts. To prevent roof issues, you need to check for potential problems on a semi-annual basis, especially after hard, snow-heavy winters. It's also important to keep in mind that renovations and repairs are highly susceptible to the seasons. You can't really bank on re-roofing your brownstone in the dead of winter so be sure to address the issue in the spring or summer.
Facade
Compared to other building materials like limestone, marble and granite, brownstone is a relatively soft and porous material susceptible to erosion and decay. Given the crumbly nature of brownstone, brownstone homeowners often need to undertake extensive facade renovations to maintain the appearance and structural integrity of their homes. Prices vary depending on the size of your brownstone and the scale of your repair. A simple patch fix will cost less, but a full facade renovation can cost anywhere between $70K for a 3- to 4-story brownstone and well over $100K for larger and more technical jobs. On top of the price, the Landmarks Preservation Commission (LPC) has put out stringent guidelines on how brownstone facades must be repaired in order to preserve the historical accuracy and structural integrity of the building's original design.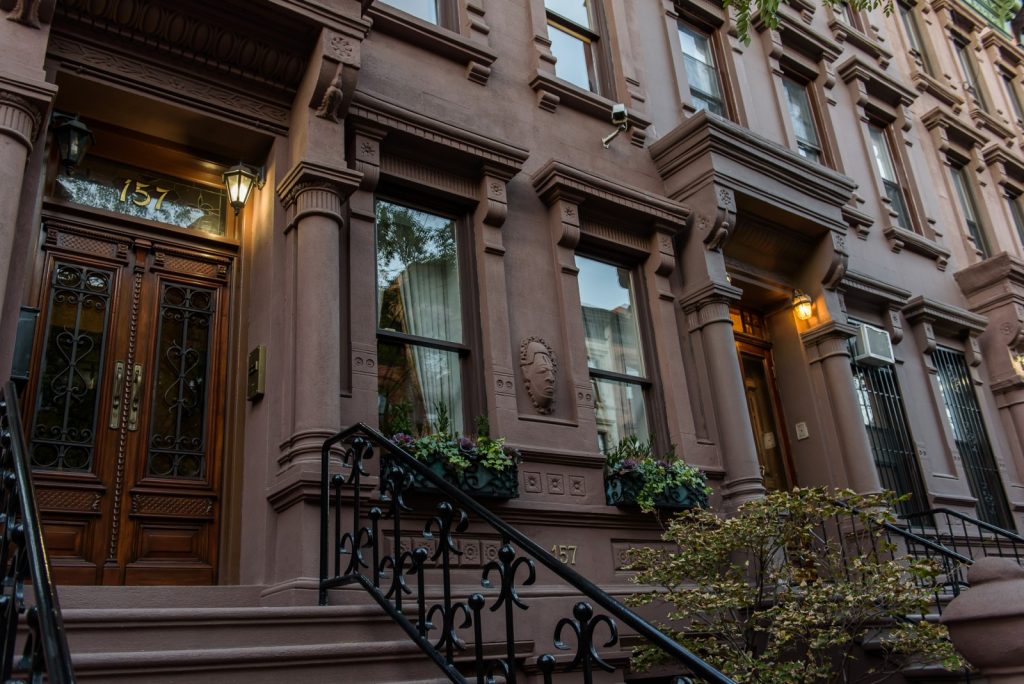 When finding a contractor for your facade repairs, it is incredibly important to find a specialist who is familiar with the LPC's regulations as well as brownstone masonry. Word of mouth is a great way to find a reliable brownstone facade specialists. Often a single contractor or specialist will have renovated several of the brownstones on your block so ask your neighbors for their recommendations or walk around your neighborhood looking for brownstones currently undergoing facade renovations. Companies will have signs displaying their names, contact information and specialties. Bangladeshi contractors and masons dominate the brownstone facade renovations in Brooklyn. Many companies like A. Malek and Amin Home Repair are both well known, well-respected names in the Brooklyn brownstone circuit.
Pain points and potential headaches to look out for with brownstone facade repairs include:
Matching the tone of the new brownstone material to the old brownstone material
Reconstructing historic 19th century details like lintels, joints and window sills
Ensuring adherence to LPC rules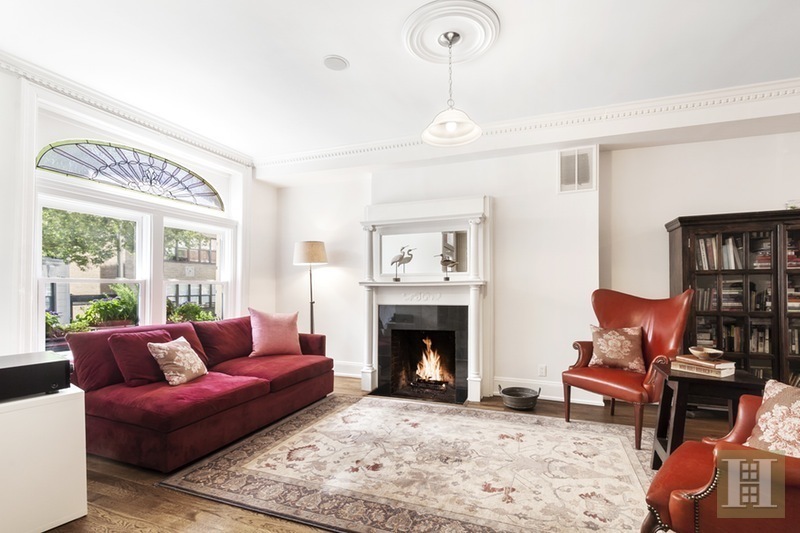 Windows
Windows in historic brownstones differ from windows in other old houses and apartments because they often have both chain-operated sash windows and stained-glass windows. Both of these window features enhance the historic value of the house, but require skill and finesse to preserve and maintain. If you want to replace windows in your brownstone, you should hire a contractor who specializes in historic brownstones and 19th-century windows. While costly, this will maintain the integrity of the building, which will help in value and resale. And if you are in an historic Landmark district, you will also be subject to the LPC's regulation on window repairs (yes, they have jurisdiction over windows as well). This means you'll need to submit work permits for them to review and approve before starting any repair work.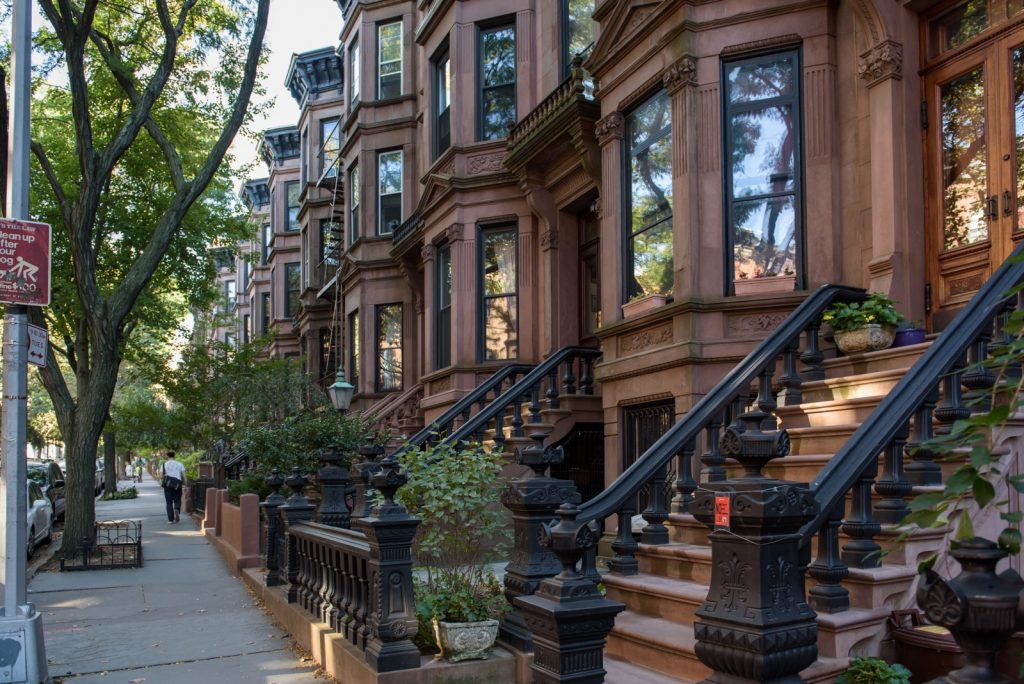 Fireplaces
Fireplaces and the dark, scrolling wooden mantles are a quintessential feature of NYC brownstones. Buyers go nuts over these original details but they come with their drawbacks. If you own an entire brownstone, chances are your house will feature many fireplaces (poor you!) since they served as the primary means of keeping the house warm back in the day. A typical four-story brownstone can have as many as six fireplaces. The woodwork on mantles tends to be very intricate and delicate, susceptible to damage and requiring frequent polishing and dusting to maintain that deep mahogany luster.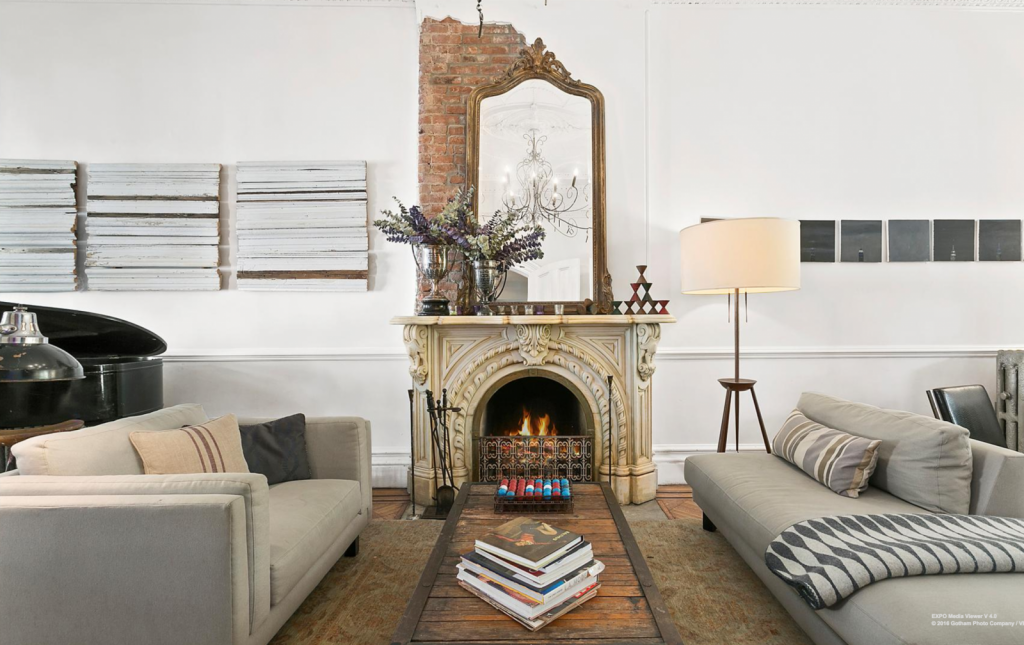 Fireplaces in many NYC brownstones no longer function and may only be decorative. Fireplaces that are no longer functioning probably still have an open flue, which can be drafty and let interior heat escape. If you wish to turn your non-functioning fireplace into a functioning one, more power to you! Despite the cost and hassle, it's a common brownstone renovation. Keep in mind that it is much simpler to turn your decorative fireplace into a gas-burning hearth than it is to turn it into a wood-burning one due to the difficulty of reopening and relining the flue. To reopen and reline the flue, contractors often have to break the wall open. If you are buying a brownstone and are planning to gut renovate the place, do not put off fireplace renovations. If you would like working fireplaces, address that immediately. There is no point to spend time and money refurbishing and beautifying your brownstone only to rip open a wall to put in an active fireplace.
Air Conditioning
Unless you're buying a renovated brownstone, chances are you will not have air-conditioning. You have three options for cooling your house: window-units, central air-conditioning and split A/C units.
If you are paying all that money for a beautiful, historic brownstone, do you really want to go and mar the aesthetic with a bunch of leaky, rusting window units? Probably not. While window units are easy to install (no contractor, required) and are relatively cheap, they are not very energy efficient and will only cool certain pockets of your home. It's also important to keep in mind that given the irregular size of many brownstone window frames, you may have difficulty installing them.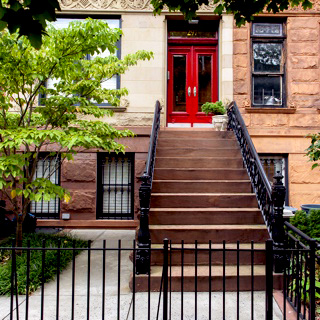 Central air-conditioning is another option. Unlike window units, which go for about $200 a pop, installing central air-conditioning is an expensive and invasive project. But, it's a consolidated system and is relatively invisible and quiet. You'll have to hire an HVAC company to install ducts since most historic brownstones don't have any. To put in ductwork, walls and ceilings will need to be opened, which can be messy. In addition to the mess and expense, something to keep in mind is that installing ductwork could damage crown moldings and other historic details of your home.
An increasingly common alternative to central-air are split A/C systems, which are easier to install and slightly less expensive than installing central air. Split A/C units require no ductwork and instead cool through mounted wall units in individual rooms of your house. Although they are not the most discreet cooling system, they allow brownstone owners to control the temperature of individual rooms of their home.
Stairs
When you buy a brownstone in NYC, you get what so few us have — lots of space and multiple floors. Multiple floors, however, also means multiple flights of stairs. It won't take you too long realize the downside of multi-story, elevator-less brownstone. Just watch your movers haul that antique armoire of yours up four flights and you'll get a sense of the schlep. For most able-bodied New Yorkers, stairs should not be a deterrent from buying a brownstone, but if you plan to reside in this home until your dying day, think hard. A four-story home can be challenging for older folks as well as dangerous. Be sure your banister is sturdy and stairways are well lit.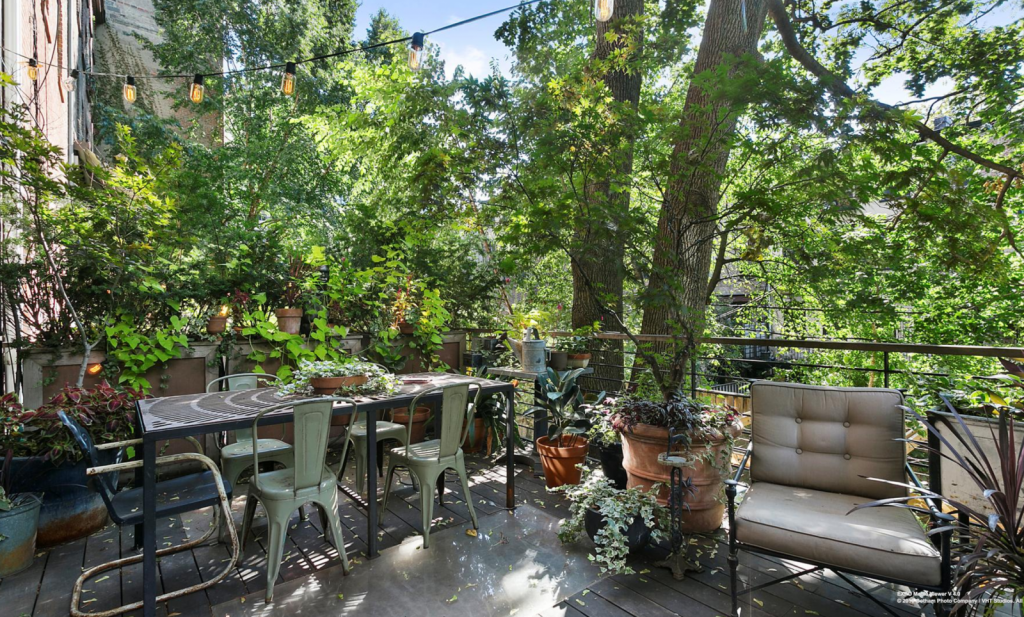 Outdoor Space
The backyard, patios and gardens that brownstones offer are obviously a huge perk. There are two things to keep in mind about outdoor space. First, plants can be expensive. You can easily drop a couple hundred dollars at a nursery buying hanging baskets, pots and soil and flats of flowers. Add in outdoor furniture and a grill and it all adds up, but is definitely worth the investment.
Another thing to remember is that the trees in your backyard are yours. You will need to trim them and be sure that branches are not causing any damage or posing any threat to you OR your neighbor's property.